As anti-racism protests take off across the globe, from Japan to Australia to the United States, many have also opted to educate themselves on the matter through popular media.
Unfortunately, the 2011 movie The Help has managed to become the movie of choice for some, becoming Netflix's most-watched film in recent weeks. The Help tells the story of Black maids during the segregation era. An aspiring author, played by Emma Stone, takes on the role of the white saviour, helping the maids find their voice. Not only does the movie play into typical Hollywood "white-saviour" tropes, but watching it allows viewers to distance themselves from the prominent racism of today, painting a picture that this was something that happened some odd 60-70 years ago.
To better understand how racial injustice manifests in our social systems – from education to policing – here are four titles that paint a very bleak, but realistic, picture.
When They See Us (dir. Ava DuVernay)
Famed director Ava DuVernay brings the heart-breaking case of the Central Park Five to life as a limited miniseries in When They See Us. The 1989 case saw five teenagers – four African American and one Latino teenager – arrested for the rape of a white woman without a shred of evidence or DNA. The teenagers are quickly heralded into the prison system where they spend an average of six to 13 years locked up for a crime they didn't commit. The four-part series offers a gut-wrenching look into how unfair the justice system is towards Black people, and how innocent until proven guilty is never applied to those who are not white.
13th (dir. Ava DuVernay)
Another modern gem from director DuVernay, 13th is an intimate documentary on how the justice system is rarely about serving justice but more about reaching quotas. Like any other business, the prison system works on a for-profit basis, with African Americans disproportionately represented despite only making up a small portion of the population. The documentary features scholars, activists and politicians as it tries to explain the history of US prisons, dating back to slavery and the post-Civil War era.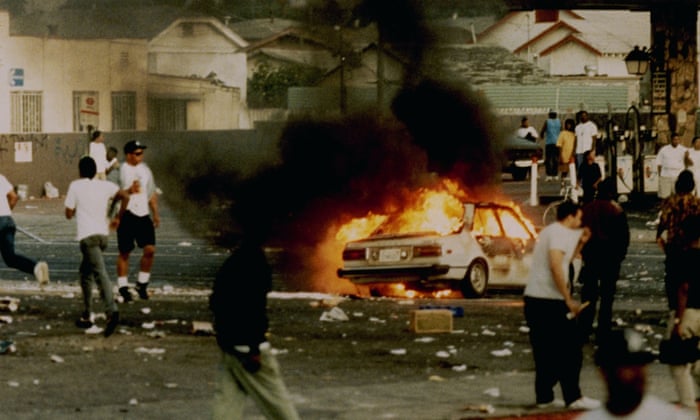 LA '92 (dir. Daniel Lindsay and T.J. Martin)
Viral videos that show Black people brutalised by the police, unfortunately, are not something new. This was the case when Rodney King, an unarmed Black man, was beaten by Los Angeles police officers. The incident was filmed by an eyewitness and sent to a news cable where it sparked domestic and international outrage. Despite footage, the police officers involved still managed to avoid any real consequences, which became a catalyst for the 1992 Los Angeles Riots. Consisting entirely of archival footage, LA '92 is proof that despite the events taking place nearly three decades ago, police brutality is still a pressing racial issue today.
Dear White People (dir. Justin Simien)
If you'd prefer to watch something a bit lighter, but still tackle the different ways racism is normalised and perpetuated, then Netflix's Dear White People might be for you. The series, which currently consists of four seasons, takes place at an Ivy League university where the African American students must contend with a wide array of racial issues. From policing to microaggressions, Dear White People covers it all. The easily-digestible 30-minute episodes bring conversations on race to the forefront – and many might have to take a good hard look at themselves after watching.
Latest posts by Aisha Mohamed
(see all)